Products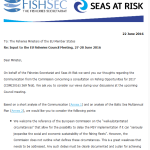 Commission Consultation on Fishing Opportunities for 2017
June 23, 2016
This letter with recommendations regarding the Communication from the Commission concerning a consultation on Fishing Opportunities for 2017, (COM(2016) 369 final) is aimed at the Fisheries Ministers to consider at the upcoming Council meeting. The European Commission sets out principles for the fixing of fishing opportunities for 2017. It shows a commitment to implement the reformed Common Fisheries Policy (CFP), however, the objective of fishing below Fmsy in order to bring stock biomass above Bmsy for all stocks is not as clear as it could be.
---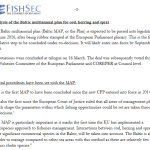 Analysis of the Baltic multiannual plan
June 20, 2016
The Baltic multiannual management plan for cod, herring and sprat stocks is analysed in the attached pdf. We welcome the use of multispecies management as a progression in how Baltic fish stocks are utilised, however, we are crticial of the plan as it places unnecessary risks upon the ecosystem and contains provisions which allow for overfishing to continue in breach of the MSY objective in the CFP.
---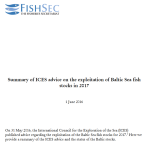 Summary of ICES advice on Baltic stocks for 2017
June 1, 2016
On 31 May 2016, the International Council for the Exploration of the Sea (ICES) Advisory Committee published their advice regarding the exploitation of the Baltic Sea fish stocks for 2017. Here we provide a summary and comment on the assessments and advice.
---