MSY objective
Maximum Sustainable Yield (MSY) is a harvest strategy widely adopted in global fisheries, including the EU Common Fisheries Policy. It is an interim step toward more robust ecosystems-based management.
At its core, MSY is a fisheries exploitation concept that seeks the largest long-term predictable catch possible from a stable, 'equilibrium' environment. Global use and interpretation of the MSY approach has evolved in complexity since the early 20th century and its implementation is still hotly debated. Scientists continue to challenge MSY as a valid management objective from economic, societal and biological perspectives.
The EU adopted an MSY approach in its 2013 reform of the Common Fisheries Policy. Yet achieving this objective is proving to be a substantial challenge. The EU's interpretation aligns with prior international commitments in 2002 and 2012 to achieve MSY by 2015, where possible, and by 2020 at the latest. It is reiterated in the UN's 2015 Sustainable Development Goals. The EU interpretation is also more ambitious, seeking to restore and maintain populations of fish stocks 'above biomass levels capable of producing MSY' (CFP Article 2.2).
However, decision makers are progressing slowly toward rebuilding some of the most economically important stocks.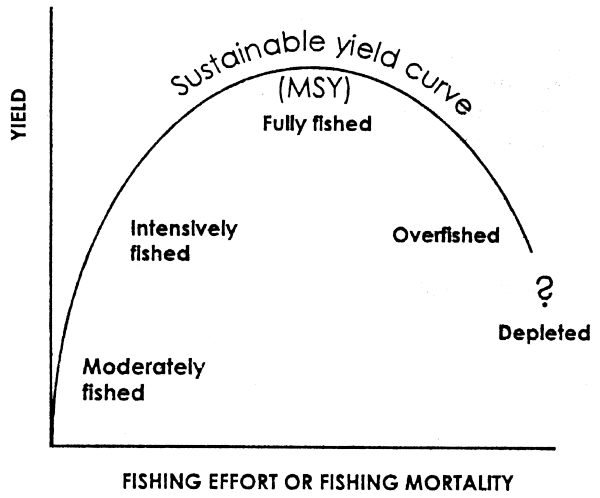 MSY is a maximum value beyond which stock productivity is assumed to decline. Given the uncertainty in fisheries stock assessment, attempting to exploit a stock at a rate which can produce MSY (FMSY) can easily lead to overfishing the stock in terms of both growth and recruitment. Furthermore, maximising yield as a policy excludes the market impact on various fleet sectors, frequently creating an unprofitable fishery characterised by a technological race to catch more of a decreasing stock and the prioritization of larger scale industry over more diverse community-based fisheries. The value of the CFP's objective to fish below FMSY in Article 2.2 is the potential to prevent this race to the last fish. The next challenge for policy makers is to determine an appropriate exploitation rate below FMSY to establish equitable and profitable fisheries and to integrate this into regional management plans.
Last updated: January 26, 2016
Recent publications
---
---
---