OCEAN2012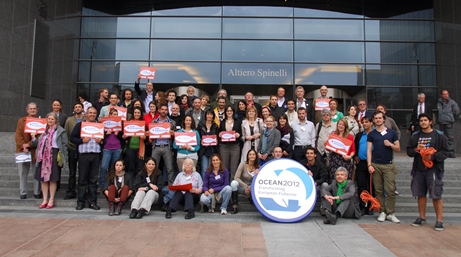 In 2009, The Fisheries Secretariat was one of five organisations that came together to form an alliance – OCEAN2012 – with the purpose of transforming European fisheries through the Common Fisheries Policy reform. OCEAN2012 was dedicated to stop overfishing, end destructive fishing practices and deliver fair and equitable use of healthy fish stocks. OCEAN2012 was represented in 24 EU Member States with more than 193 members across Europe and abroad.
We were part of the steering group and responsible for outreach and coordination in the Baltic Sea region. FishSec and OCEAN2012 aimed to highlight key issues in European fisheries that where in urgent need of reform by producing and publishing policy material on the Common Fisheries Policy. On a national level, member organisations and other NGOs engaged with decision-makers and sector interests to put forward our views and discussed different alternatives.
The OCEAN2012 network enabled a range of stakeholders, including NGOs, angling organisations, small-scale fishers and tourism organisations, that come together to present a coherent set of proposals for the new Common Fisheries Policy to the Commission and decision-makers. Once the White Paper had been published in mid-2011, support from Member States and MEPs was necessary to ensure that from 2013 European fisheries would be managed in an environmentally sustainable manner.
The CFP reform process remained one of FishSec's main priorities until the final proposals were adopted in 2014.
Last updated: July 7, 2020
Recent publications
---
---
---