Small Fish – Big Impact
Our project Small fish – Big impact will focus on the importance of forage fish in the Baltic Sea and the need to manage these fish through an ecosystem based approach. Thanks to the funding form the Swedish Postcode Foundation we will be conducting an extensive review of the current scientific literature on forage fish in the Baltic Sea and use the results of this review to develop recommendations for stakeholders around the Baltic.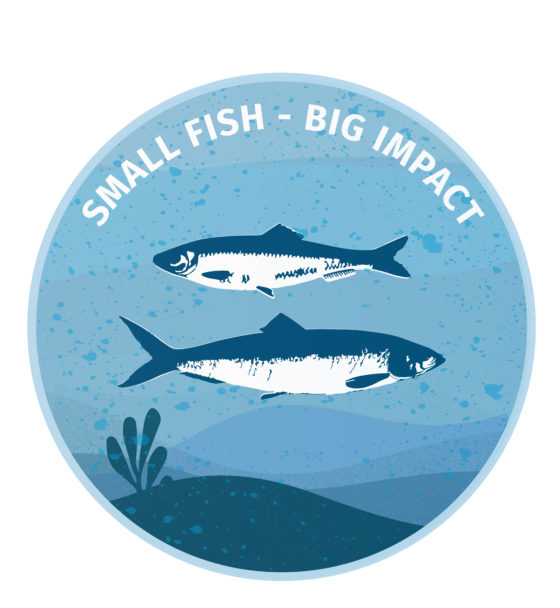 Forage fish are small pelagic species, in the Baltic Sea examples of forage fish are European sprat (Sprattus sprattus) and Atlantic herring (Clupea harengus). These fish are preyed on by larger predators and play a key role in the Baltic Sea ecosystem as a food source for larger fish including cod and salmon, as well as for marine mammals and seabirds. They are also culturally and economically important – sprat and herring have traditionally been among the most lucrative fisheries on the Baltic Sea. Today, three of the four Baltic Sea herring stocks (central Baltic Sea excluding the Gulf of Riga, Bothnian Bay Herring and Western Baltic herring) are now in poor shape (read more in our Joint NGO TAC paper). Additionally, both of the Baltic cod stocks, which rely on sprat and herring as prey species, are on the verge of collapse. It is clear that the Baltic Sea ecosystem is in severe distress.
Our project Small fish – Big impact started in September 2023 and will go on for 2,5-years. The project  starts with an extensive review of the current scientific literature regarding forage fish and their role in the Baltic Sea which will be collated in a report during 2024. This report will form the basis of a coordinated advocacy campaign executed by FishSec and spread by partner NGOs, other stakeholders and an established network in the Baltic region. The project follows our Return of the Cod-project, where we reviewed the situation for cod in the Baltic Sea and where one of the key recommendations was to ensure that the Baltic Sea food web is in good health to allow all species to thrive. 
In the long-term, the vision for Small fish – Big impact is the restoration of ecosystem dynamics in the Baltic allowing fish and other wildlife populations to rebuild as well as allowing traditional fisheries to flourish.
Last updated: October 23, 2023