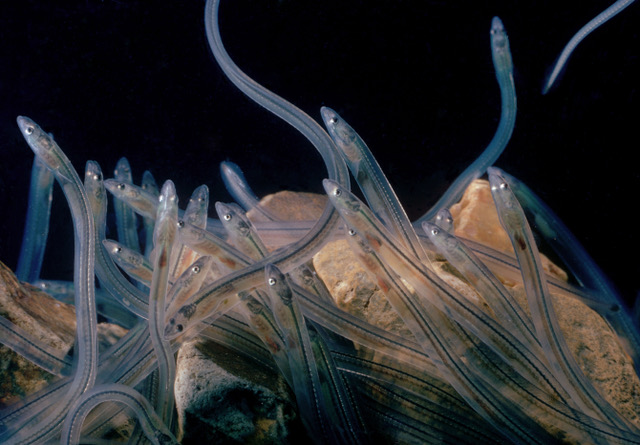 Commissioner Sinkevičius has been clear that status quo is not an option for the critically endangered European eel. The new proposals reinforces existing measures rather than going for a full closure in line with scientific advice. To have any significant effect, Member States must reciprocate for eel fisheries in inland waters, as well as step up efforts to address other threats.
On Friday 28 October, the Commission finally published its proposals for further measures for European eel, after the scientific advice on fishing opportunities changed to zero catch in all habitats and for all life stages last year. If agreed, the measures would apply to all EU waters, including the Atlantic, the Baltic Sea and the Mediterranean.
The proposal (COM(2022)559)[1] is a marked improvement of existing restrictions on fishing opportunities for eel, extending the current 3-month eel fishing closure to 6 consecutive months in EU marine and brackish waters, including estuaries, coastal lagoons and transitional waters, as well as international waters. It applies to both commercial and recreational fishing activities for all life stages.
It also provides further requirements to ensure that the closures cover the peak migration period for both glass eel and silver eel, for example, that the closures must include a period of at least two months before and after the peak migration.
The timing of the closures shall be based on the best available scientific information about eel migration patterns for each geographical area. Each Member State must determine the correct months, based on data from the last 10 years.
The proposal adds new text on straits and transboundary areas – that closures in those areas must be consistent with closures in nearby areas and that, where appropriate, neighbouring Member States and regions shall aim to agree on these closures jointly.
Finally, all Member States must report the closure period(s), the supporting information about peak migration, and any relevant national measures to the Commission by 31 January 2023. This is the normal reporting date for the Mediterranean closures but a significant change for the other Member States, which have previously reported by 1 June.
Move in right direction
The Commission proposal is a good step in the right direction and, if adopted and applied, it could significantly reduce catches of glass and silver eel in some important areas. It is clear that the Commission is trying its utmost to make sure that the legislation is implemented as intended by requiring supporting scientific information. However, it is not in line with the zero catch advice and the objectives of the Common Fisheries Policy (CFP).
Considering the scientific advice and the fact that European eel has been listed as Critically endangered since 2008, only a full fishing closure would be in line with the CFP regulation (EU 1380/2013) and EU commitments on biodiversity.
Since the EU regulation will only apply to marine and coastal waters, the proposed measures will have a limited and uneven effect due to national differences in fishing patterns. In several Member States, all or a majority of the commercial and/or recreational eel fisheries take place in inland waters. It will therefore affect some countries, like Denmark and Sweden, more than others. The solution, however, is not fewer restrictions in EU waters but that all EU Member States agree to apply the same measures in inland waters as well. This is already the case in the Mediterranean region, where the current 3-month ban has applied to both marine and freshwater since the GFCM Recommendation 42/2018/1 was adopted.
In the press release, the Commission states that it will be working with Member States to strengthen national measures, including inland fisheries restrictions, in order to ensure a comprehensive approach. This is really good but we know from the exchange of views at the Fisheries Council on 26 September that there is a resistance to further fisheries restrictions in many Member States.
At the September Council, many focused instead on other threats to European eel – and they do need to address all those threats as well. In fact, all kinds of measures should be well underway by now since the Regulation (EC) No 1100/2007 of 18 September 2007 establishing measures for the recovery of the stock of European eel was agreed more than 15 years ago. The scientific advice for zero catch, also states that all other anthropogenic mortalities should minimized and eliminated where possible[2]. It is crucial to tackle other threats to the European eel population, such as habitat loss, pollution, migration barriers and pathogens, with more urgency as well.
Another issue with closures in marine waters and coastal waters only, is the risk that fishing pressure will be redirected, either to more fishing in inland waters or by targeting more yellow eels, both of which would limit the effects of the longer closure.
Previous experience also shows that delays in implementation and incomplete reporting of eel data is commonplace. If the proposal is adopted, what will happen if a Member State does not follow the rules? Considering the new requirement to submit evidence that the correct closure period has been chosen, Commission follow-up of the implementation will be increasingly important.
Next steps
The proposal may be updated after the publication of the scientific advice on European eel for 2023, which will be published on Thursday 3 November. Discussions in the Council Working Group will be ongoing.
On 7–11 November, the General Fisheries Commission for the Mediterranean (GFCM) will be discussing proposals for further measures on eel in that region during its 45th Annual Session. This may affect the EU wide discussions as well.
A decision on the proposal is expected at the Fisheries Council meeting on 12–13 December.
For more information:
Anguilla anguilla. The IUCN Red List of Threatened Species 2020
COUNCIL REGULATION 2023 fishing opportunities for Union waters
ICES Advice on fishing opportunities for 2022  
EU eel recovery plan 1100 2007
GFCM Recommendation on European eel
Footnotes:
[1]COM(2022)559 final: Proposal for a COUNCIL REGULATION fixing for 2023 the fishing opportunities for certain fish stocks, applicable in Union waters and, for Union fishing vessels, in certain non-Union waters, as well as fixing for 2023 and 2024 such fishing opportunities for certain deep-sea fish stocks. (LINK)
[2]ICES. 2021. European eel (Anguilla anguilla) throughout its natural range. In Report of the ICES Advisory Committee, 2021. ICES Advice 2021, ele.2737. nea, https://doi.org/10.17895/ices.advice.7752.