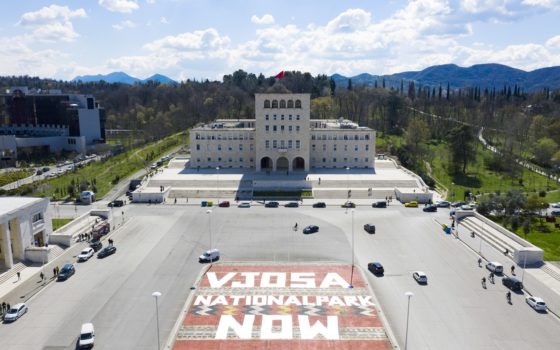 The Vjosa River is one of the last large free flowing rivers in Europe and the home of European eels. It is a recognised biodiversity hotspot, and the presence of eel is well documented throughout the Vjosa/Aoosa catchment area.
The current President of Albania, Ilir Meta, and Prime Minister Edi Rama have both promised to protect the river, but the Vjosa may again be threatened by hydropower developments, as there is great political uncertainty with the upcoming Albanian parliamentary elections on 25 April.
To counteract this potential threat, citizens, activists and conservationists are demanding political support for the establishment of Europe's first wild river national park, in order to secure its long-term protection. As part of this action, Patagonia, Riverwatch, EuroNatur and EcoAlbania have launched Vjosa Forever, a new documentary short film asking people everywhere to join the fight to preserve the future of the Vjosa. Some of the organisations behind the film are also involved in the project "Saving Europe's last free-flowing wild river – Vjosa/Aoos".
On World Water Day on 22 March, efforts were stepped up as several NGO's released a series of photos showing the words Vjosa National Park Now! cloaking the foreground of globally recognised monuments in Paris, Berlin, Brussels, and Tirana.
As Albania is on its way to join the European Union, after applying for EU membership in 2009 and beginning accession talks in March last year, there has also been a process to identify potential Natura 2000 areas in the country. The NaturAL project aimed to halt the loss of biodiversity in Albania through improved management of protected areas of the country, by implementing management plans for at least five of the many protected areas in Albania. It also set out to prepare a preliminary list of Natura 2000 sites for future submission to European Commission by the Albanian authorities, and the Vjosa area is one of the top 10 sites.